Lifescape
By Janet Armstrong,
Certified Interior Designer, CAPS
Creating the right ambience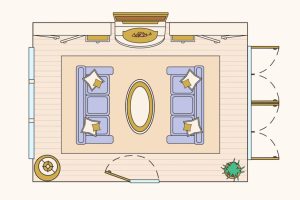 When you are planning updates to your living room, the first considerations are typically paint, decor accessories, draperies, flooring, and perhaps new furnishings. One of the considerations we often forget, but is important, is the layout of the room. This is a vital and necessary factor as it can help or hinder the use you will make of the room and the ambience you want to achieve. It can also drive decisions about new furnishings you plan to purchase. This month, to guide and assist you, I share ideas and tips for furniture layout to ensure your space is balanced, harmonious, and in proportion to the size and use of the space you are working with, regardless of style.
Formal
If your style taste tends toward a formal living room, your furnishings should be squared and balanced. Structure the furniture placement by positioning two sofas or love seats or a sofa/love seat and two chairs opposite one another. A coffee table positioned between the seating brings balance and provides an accessible and convenient place to set beverages from any seated position. A formal style is further enhanced by placing furnishings relative to the room's main feature, be it a fireplace, picture window, or an architectural feature. A pair of matching table lamps add an extra layer of structure and formality
Informal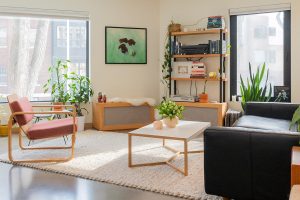 There are subtle but significant differences between a formal and informal layout. The arrangement of furnishings is balanced but not as structured or squared as a formal layout. Informal spaces typically include a sofa and a couple of chairs which are set at an angle to 'soften' the space. An occasional table between the chairs adds additional surface space to set beverages and perhaps a table lamp. An informal arrangement often includes other pieces too, such as a bookcase and often a television, that serve to make the room a more multi-function space.
Cozy and Comfortable
If your goal is a cozy, comfortable ambience, keep your furnishings spare but comfortable. A sectional is the perfect piece for this style of room and provides lots of seating. Adding in a chair and ottoman (on an angle!) in a patterned upholstery that coordinates with the sectional not only adds additional seating, but the contrast makes the space even more casual. Toss pillows and a couple of throws draped over the arms of the sectional or chair or artwork casually leaning against the wall either on a shelf or on the floor enhance the casualness of the space.
Farmhouse
Farmhouse style is a very casual and informal style where comfort is key. Typically, there is more than one conversation area — one for lounging and relaxation, another for games or reading. The furnishings are situated with chairs angled to the sofa and each other to support conversation and relaxation. And while furnishings are all the same scale, the pieces are often mismatched, adding to the space's casual feel. Don't forget the other elements that boost the farmhouse style — wood, stone, and striped or checked fabrics.
Multi-functional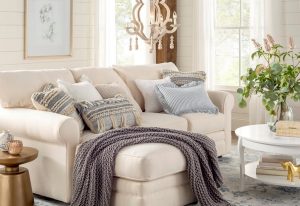 Many of us have open concept spaces that include zones for lounging and relaxing, dining, playing, and especially these days, working. To ensure a functional, balanced space in these instances, it is important to first  identify where each zone is going to be located and working to visually divide the space. The 'living room' zone is best defined by placing a sofa or sectional with its back to the other areas of the room. The zone can be more
defined with the use of an area rug large enough that all of the furniture can sit on it and perhaps a console table along the back of the sofa. Once the living room zone is complete, the office/work and dining zones can then be placed in their respective zones. To ensure a cohesive and coordinated multifunctional space, use the same accent colours and textures throughout as well as lamps and lighting from the same collection.
Regardless of whether your living room is a formal space for entertaining, a relaxed, comfortable room for conversation and family games, or a multi-function space for relaxing, entertaining, working and/or dining, these layouts will assist you in furniture placement. The tips and ideas for enhancing the style with decor accessories will further help create the ambience you want, resulting in balanced, harmonious, polished, and inviting spaces.
Janet Armstrong (simplyswankdecor.ca) is a graduate of the Interior Design Institute of Canada, CAPS (Certified Aging in Place Specialist), and Chair of the Decorators and Designers Association of Canada (DDA Canada).