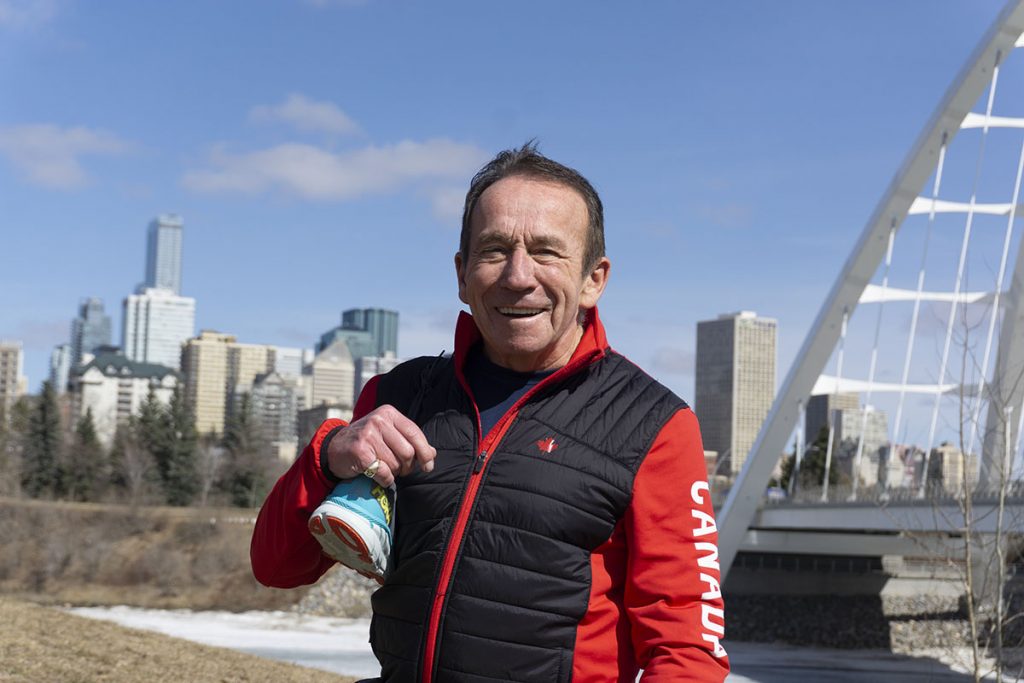 Story and photos by Jennifer Hartley
John Stanton's lifelong passion for fitness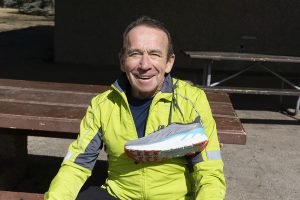 You have probably seen the logo as you wander around, or maybe you have even gone into a Running Room location yourself, motivated to gear up for walks or jogs to get out of the house during COVID-19. Whatever the case, for over 37 years, the Running Room has been synonymous with street fitness across Canada, and it could not have been founded by a nicer person than John Stanton.
This year marks his 40th anniversary as a runner, and like so many others, he fell into it. It was 1981, and a three-kilometre fun run with his sons served as the wake-up call for then-out-of-shape, overweight, two pack-a-day smoker Stanton. He knew he needed to change his lifestyle, so he began running secretly, before dawn, because he felt self-conscious about having his neighbours see "this chubby little guy" who could only run from lamp post to lamp post before having to take a walk break.
That chubby little guy caught the running bug and went on to run over 60 marathons, hundreds of road races, and numerous triathlons, including the Hawaiian World Championship Ironman competition. (Ironman is a 3.86 kilometre swim, a 180.25 kilometre bicycle ride followed by a 42.20 kilometre run—i.e., a marathon—in that order.)
When he started his fitness journey, he was surprised at the lack of gear available. Being an entrepreneurial person, he saw a niche he could fill, so he opened a shop to cater to runners. In 1984,in a tiny room of an old house shared with a hairdressing shop in Edmonton, the Running Room began. Today, there are over 100 stores in Canada and the United States, and with well over 1,300 employees, it has grown to
become North America's largest chain of specialty running stores.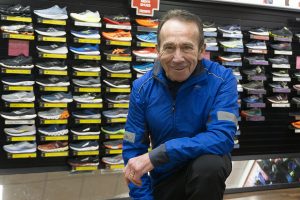 There is something truly heartwarming when someone like Stanton achieves his level of success. He has not let fitness celebrity or business success go to his head. "You have to stay humble. I think that is important. Success comes, but success is fleeting. Fame is fleeting. You have to respect those in your family unit, your social unit, those you work with, your community. You want to stay humble everywhere because none of us are that good. We are only good as a community unit."
However, in his case, it is more than just that because he thrives in boosting others up. "I enjoy creating success with others and creating success in the community. I call it the triple win. I get to win, the community wins, and the organization wins too. It's a three-way win, and if you do that, you can sleep well at night."
That emphasis on community is the underpinning of everything he does and has cultivated with the Running Room. There's not an ounce of snobbery in his company. Its humble beginnings remain part of its ethos even when, let's be honest here, running has in the past been an elitist sport. Stanton's philosophy is that anybody can do it—anybody can move their body for fitness at any age.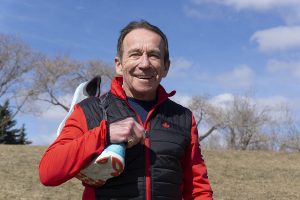 He's not a typical motivational speaker who hypes you up with lots of high-energy speeches. Instead, he convinces you to use your own energy, to use your own strength, and he makes you believe in yourself and that you can do it. He empowers people. That is priceless.
Part of what makes him so effective is the fact that he is a regular guy, just offering practical advice that he has learned over the years on how to move and stay fit. He's just been exceptionally good at it and highly successful.
He doesn't run in races anymore but spends more of his time coaching. "I am like a preacher now, just spreading the fitness word. That is where I spend my time. I am even on Facebook and social media now."
Motivating people of all ages is important to him. "Actually, as we get older, it is even more important to keep moving. Being able to do things improves the quality of life." Stanton is a septuagenarian and understands the body changes that occur as we age. "Fitness is so good for the physical health of course, but it is an important factor for mental health. I still run every day and even though I am 73,when I am running, I feel like I am 23."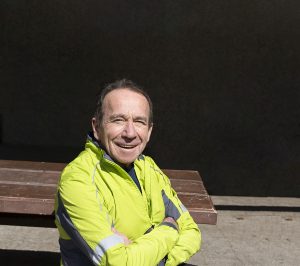 However, many people new to fitness or those coming back to it after a hiatus may feel trepidation and/or the self-consciousness that Stanton himself felt at the beginning. Gym culture doesn't do a lot to dissuade it. The Running Room does everything it can to be the antithesis of that. Anyone and everyone is welcome. Whether you are running your 100th marathon, or starting out, or wanting to just feel
healthier, you will feel supported because Stanton has cultivated that sense of belonging.
The Running Room community is large. Stanton started training programs for every fitness level, and to date, there is a whopping 800,000 training program graduates lurking out there. While other sports stores are just that, the Running Room is a community and that is all because of its founder.
A sense of belonging and the importance of hard work and focus are a winning combination that he learned early in his life.
"My first employer, in fact, taught me those critical lessons. I got my first job when I was 14 and worked at the local grocery store, the IGA. Al, the owner, taught me about the power that comes if you work hard. And if you do that and are diligent and focused, you will succeed."
And from there, Stanton's career in the food industry began. By the time he was 16, he was an assistant manager in the store. "It was kind of unheard of because most assistant managers were 25 or 30,but he trusted me and gave me the confidence that allowed me to grow."
Stanton went on to become a successful food industry executive before the leap to the Running Room.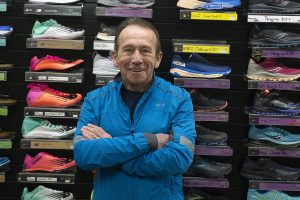 "Learning to have that faith in other people is what allowed me to grow from having one Running Room store to having multiple ones. I also learned that it is important to surround yourself with smarter people or people who are sometimes more talented than you are and trust them that they will do a good job. Al taught me the value of teams, of working together, and hard work as a team. There are more good people than bad people out there."
Inevitably, for someone in his line of work in these unprecedented times, the conversation veers towards COVID. While his in-store shopping took a hit, his online sales have done well during the pandemic. He has been lucky, but he looks forward to in-person experiences.
"You know we've all gotten used to technology, but it's not the same as sitting across the table, but we are adapting to it. We also miss the races. That is sad. That is where I have an interpersonal connection with people across the country. That is important for me, for us as a company, and for the consumer. We miss that part of it. I think all of us have felt like we have been trapped in solitary confinement. However, nobody wants to be part of an event of five-10,000 people either. Everyone is adapting."
Stanton normally spends a good part of his time travelling around from race to race, encouraging runners, and while face-to-face support isn't happening, he can still be reached online to give you that slap on the back that you might need to keep going. One day alone on his Facebook page can yield ten fitness tips that will make even the biggest couch potato want to move.
It moves him to hear people's stories. "I get emotional every time I hear 'you changed my life,' or when someone who has read my book or heard me speak tells me how I have helped them. I have people tell me about how when they had an alcohol problem a drug problem, or lost a spouse or a child or PTSD, running played a role in making things better. When I hear that I have somehow helped someone in a traumatic time in their life, that I made a difference— well, that is what makes me proudest, having a small part. It is just that, a small part because they have to do all the hard work, but I am proudest to be part of that transformation."
Runs in the Family
The business is a family one now. His two sons, John, Jr. and Jason, are partners with Stanton. "As a family unit, we work together, but we spend a lot of our downtime together as well. We all get along. We are blessed. We have four grandkids, three granddaughters, and one grandson, who all live in our community. It is such a great thing."
In his spare time, he has taken up golf with his wife, to whom he has been married for 52 years. "We still like each other!" he says, as he chuckles. "You get to walk, and it's time together, it is active, and it's social."
Like many other successful people, he also appreciates a good book. In fact, he writes them too. He has four under his belt to help encourage runners and walkers.
For his own reading pleasure, he turns to books about leaders and politicians. "I am a news junkie. I like keeping up to speed on the world. Joe Biden's book is incredible. It was so moving to hear when he lost his son Beau. The power of their family is inspirational. When he needed money, Barack Obama was there for him. I like hearing about the humanity of leaders and the kindness of humanity."
Stanton himself has a strong philanthropic streak.
"Cancer. I lost my parents and my wife's father, and we have numerous cancer cases in my family. We helped start Run for the Cure back in 1992,and it has grown into quite a national event."
That is putting it mildly. The CIBC Run for the Cure (CIBC became the main sponsor in 1997) is no one of Canada's largest single-day, volunteer-led fundraising events dedicated to breast cancer research, education, and awareness.
Stanton is a fan of the Terry Fox Foundation. "Terry Fox not only was a tremendous athlete, but he was an incredible fundraiser." Stanton likes the organization also because there is not a large overhead. "The money goes to care and research. That it is instrumental for me."
As you might imagine, Stanton has countless, extraordinary accolades, too many to list. There are the expected athletic halls of fame (Edmonton Sports Hall of Fame, Athletics Hall of Fame),recognition for his business savvy and accomplishments as one of Canada's Best Managed Companies (too many years to count),the Retail Hall of Fame, health organizations including the Canadian Medical Association for his health promotion, community spirit, and corporate responsibility awards. His philanthropic work and business success have been celebrated with honorary college degrees, a University of Alberta honorary doctorate as well as the Queen's Jubilee Medal and
the Order of Canada.
When asked about vices, he said he loves chocolate ice cream and would eat it every day if he could. He should. He deserves endless vats of it.
Stanton says he aspires to be like the leader who exemplifies "the kindness and humanity of the neighbourhood friend, "all the while motivating people to move. "I hope to inspire people."
John Stanton definitely does that, and so much more.
LOOKING TO GET STARTED?
Stanton created the 10:1 concept to help people get into running. You run/jog for ten minutes and walk for one. Stanton discovered
this when he was starting out and developed it into a strategy.
By alternating walking and running from the start, there's virtually no limit to the distance you can cover.
Using this method will extend the capacity of the running muscles at the end of the run because you're shifting the workload between
the walking and the running muscles. It will also allow those with some types of previous injuries to knees, etc., to train for marathons without further injury. In fact, it reduces the chance of injury and overtraining to almost nothing.
Walk breaks force you to slow down early in the run so that you don't start too fast. This reduction of the intensity of muscle use from the beginning conserves your energy, fluids, and muscle capacity. On each walk break, the running muscles make internal adaptations, which give you the option to finish under control, increase the pace or go even further.
The 10:1 method helps beginners or heavy runners to increase their endurance to 5K, 10K, or even the marathon in as soon as six months;
and it improves times because legs are strong at the end.