This recipe and image, courtesy of Foodland Ontario, make it a pleasure to add more vegetables to your day. Sure they're nutritious, but they're also so tasty and eye-catching, you might even serve yourself seconds.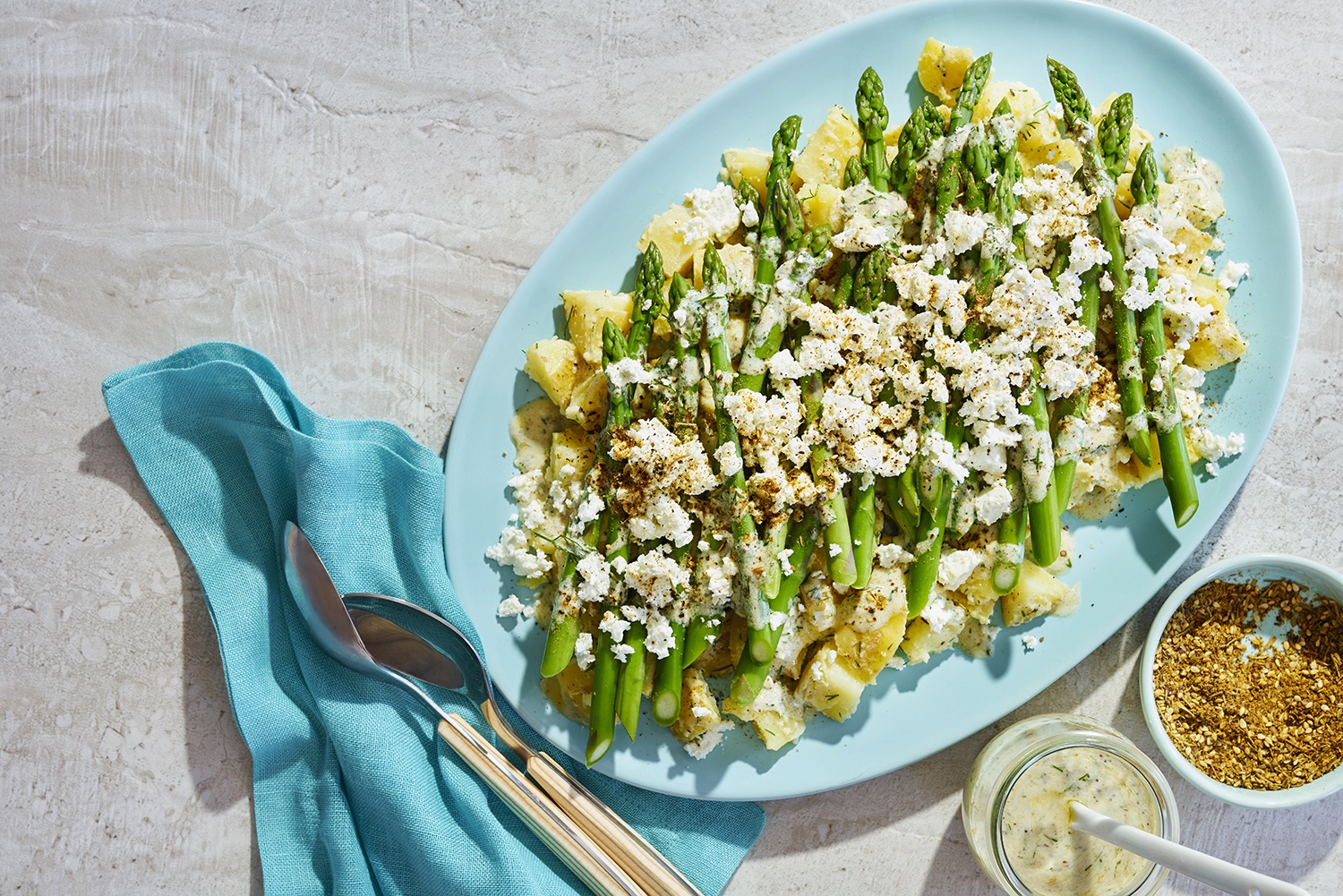 Za'atar spice blend is a signature of Middle Eastern cuisine, featuring fragrant herbs and sesame seeds. It accents asparagus and potatoes wonderfully. You can buy za'atar in the specialty food aisle or spice aisle.
Preparation Time: 15 minutes
Cooking Time: 35 minutes
Serves 4 to 6
Dressing:
1/2 cup (125 mL) 2% plain yogurt
3 tbsp (45 mL) extra virgin olive oil
1 tbsp (15 mL) apple cider vinegar
1 tbsp (15 mL) chopped fresh Ontario dill
1 tsp (5 mL) za'atar spice blend
Salt and pepper, to taste
Salad:
4 Ontario potatoes, cut into 1-inch (2.5 cm) chunks, (about 1-1/4 lbs/625 g)
Salt, to taste
1 lb (500 g) Ontario asparagus, trimmed
1/2 cup (125 mL) crumbled Ontario feta cheese
Za'atar spice blend and pepper, to taste
Dressing: In liquid measuring cup, whisk together yogurt, oil, vinegar, dill and za'atar; season with salt and pepper. Set aside.
Salad: Place potatoes in medium saucepan, add cold water to cover by 2-inches (5 cm); season with salt. Cover, bring to boil over high heat; reduce heat and boil gently, with lid ajar, until potatoes are almost tender, about 12 minutes. Add asparagus; boil until asparagus is tender-crisp, 2 to 4 minutes.
Drain in colander, transfer to medium bowl. Using tongs, return asparagus to colander. Set potatoes aside to cool. Rinse asparagus with cold water until chilled; drain and set aside.
To serve, pour 1/4 cup (50 mL) of the dressing over potatoes; toss gently to coat. Arrange potatoes and asparagus on serving platter, drizzle with remaining dressing. Top with feta cheese. Season to taste with za'atar and pepper.
Tip: Serve the salad slightly warm or room temperature or cover and refrigerate dressing and cooked vegetables separately for up to 1 day to serve cold.
Nutritional Information:
1 serving (when recipe serves 6):
PROTEIN: 6 grams
FAT: 10 grams
CARBOHYDRATE: 21 grams
CALORIES: 193
FIBRE: 3 grams
SODIUM: 265 mg