Recipe and photos courtesy of Foodland Ontario
It's asparagus season. Much like the month of May itself, asparagus is full of vivid colour and appeal. This springtime vegetable looks elegant on a plate, adds oomph to all kinds of recipes and delivers a bounty of nutrients—including vitamins, minerals, antioxidants and fibre. Try this delectable recipe when asparagus is at the peak of grown-in-Ontario freshness.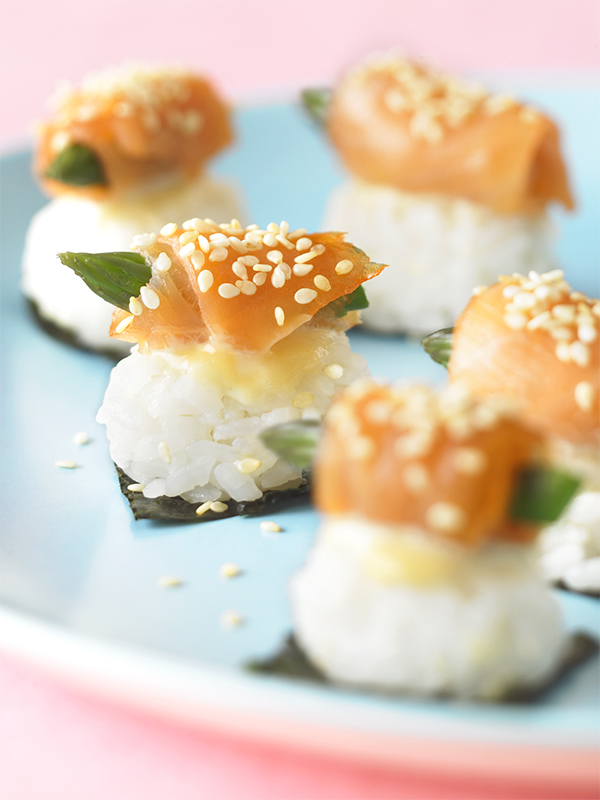 Sushi squares are a quick and easy appetizer and make a great introduction for a beginner to the world of sushi. Roasted nori is available at most grocery stores or Asian markets. Ontario asparagus adds brilliant colour to serving platters. For a pretty presentation, place every other rice square on a small piece of Bibb lettuce.
Preparation Time: 20 minutes
Cooking Time: 30 minutes
Makes 24 squares
1 cup (250 mL) sushi rice (short-grain rice)
1-1/4 cups (300 mL) water
8 stalks Ontario asparagus
1 sheet roasted nori
1/4 cup (50 mL) seasoned rice vinegar
2 oz (60 g) smoked salmon or prosciutto
2 tbsp (25 mL) Russian-style mustard
2 tbsp (25 mL) light mayonnaise
2 tbsp (25 mL) sesame seeds, toasted
In medium heavy-bottomed saucepan, cover and bring rice to boil; reduce heat to low and simmer for 12 to 15 minutes or until water is totally absorbed. Remove from heat. Let stand, covered, for 15 minutes.
Meanwhile, wash and break asparagus stalks where they snap easily; discard ends. Cover in boiling water for 2 to 3 minutes or until fork tender. Rinse in cold water. Pat dry and slice into 1-inch (2.5 cm) pieces.
With scissors, cut nori sheet along perforated lines. Cut each long strip into 1-1/2-inch (4 cm) squares; set aside.
With fork, gently fluff rice; stir in vinegar. If not using right away, cover with damp cloth. Slice smoked salmon into 1-1/2-inch (4 cm) strips to wrap around asparagus. Combine mustard with mayonnaise.
Lay out nori squares on work surface. Wearing latex gloves, wet hands. Squeeze 1 tsp (5 mL) sushi rice into tight ball; place on work surface and smooth and shape into square or leave round. Place on nori square; immediately place on serving platter. Repeat with remaining rice. Can be covered with plastic wrap and set aside at room temperature until serving time. Just before serving; place 1/4 tsp (1 mL) mustard mixture on each rice ball. Wrap thin slice of salmon around asparagus piece; place on mustard. Sprinkle with sesame seeds. Serve or refrigerate.
Nutritional Information:
1 serving
PROTEIN: 1 gram
FAT: 1 gram
CARBOHYDRATE: 7 grams
CALORIES: 43