This cheesy dish is perfect for sharing. Guests will have fun pulling this appetizer apart and dipping the crispy puff pastry into the gooey, warm Brie. The pear and cranberry chutney pairs perfectly with the Brie.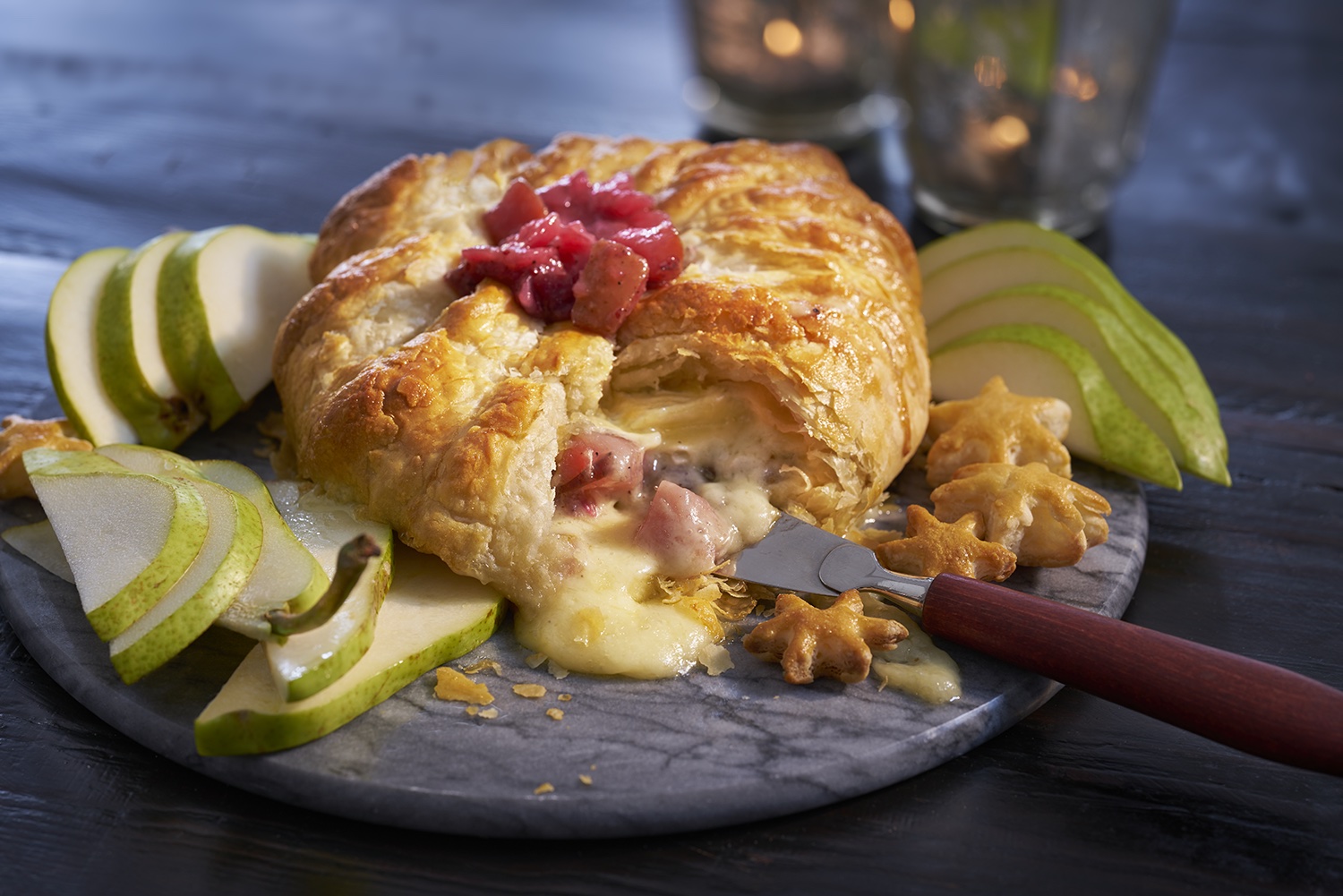 Whether you want to entertain guests, put a nutritious, stick-to-your-ribs meal on the table, use up leftovers or whip up a little something sweet, this idea fit the bill scrumptiously. Courtesy of Foodland Ontario, the appetizing image and instructions might even prompt you to enjoy some extra time in the kitchen
Preparation Time: 15 minutes
Cooking Time: 10 minutes
Baking Time: 25 minutes
Serves 12
Chutney:
1 Ontario pear, diced
1/2 cup (125 mL) Ontario cranberries
1/4 cup (50 mL) diced Ontario onion
2 tsp (10 mL) granulated sugar
1/2 tsp (2 mL) each salt and pepper
1/4 tsp (1 mL) ground ginger
Brie:
1 sheet (225 g) frozen butter puff pastry, thawed and
refrigerated
200 g round Ontario Brie
1 Ontario egg, beaten
Ontario pears, sliced (about 2)
Chutney: In medium saucepan, combine pear, cranberries, onion, sugar, salt, pepper and ginger. Cook over medium heat, for 10 minutes, stirring often to prevent burning. Remove from heat; set aside to cool.
Brie: On lightly floured surface unfold the pastry; place cheese in centre. Cut circle about 2-inches (5 cm) larger than the cheese. Set aside pastry scraps for decoration. Spoon cooled chutney on top of cheese, reserving 1 tbsp (15 mL). Brush egg on pastry seams. Fold pastry up over the cheese and chutney to cover. Press to seal; trim any excess pastry. Place onto parchment paper-lined baking sheet, seam side up.
Make decorations or decorate with the pastry scraps; use a cookie cutter if desired. Brush pastry with egg. Bake in 400°F (200°C) oven 25 minutes or until pastry is golden brown. Let stand for 10 minutes before serving. Top with reserved chutney. Serve with pear slices and pastry decorations.
Nutritional Information:
1 serving
PROTEIN: 5 grams
FAT: 9 grams
CARBOHYDRATE: 12 grams
CALORIES: 151
FIBRE: 1 gram
SODIUM: 265 mg