This recipe and image, courtesy of Foodland Ontario, make it a pleasure to add more vegetables to your day. Sure they're nutritious, but they're also so tasty and eye-catching, you might even serve yourself seconds.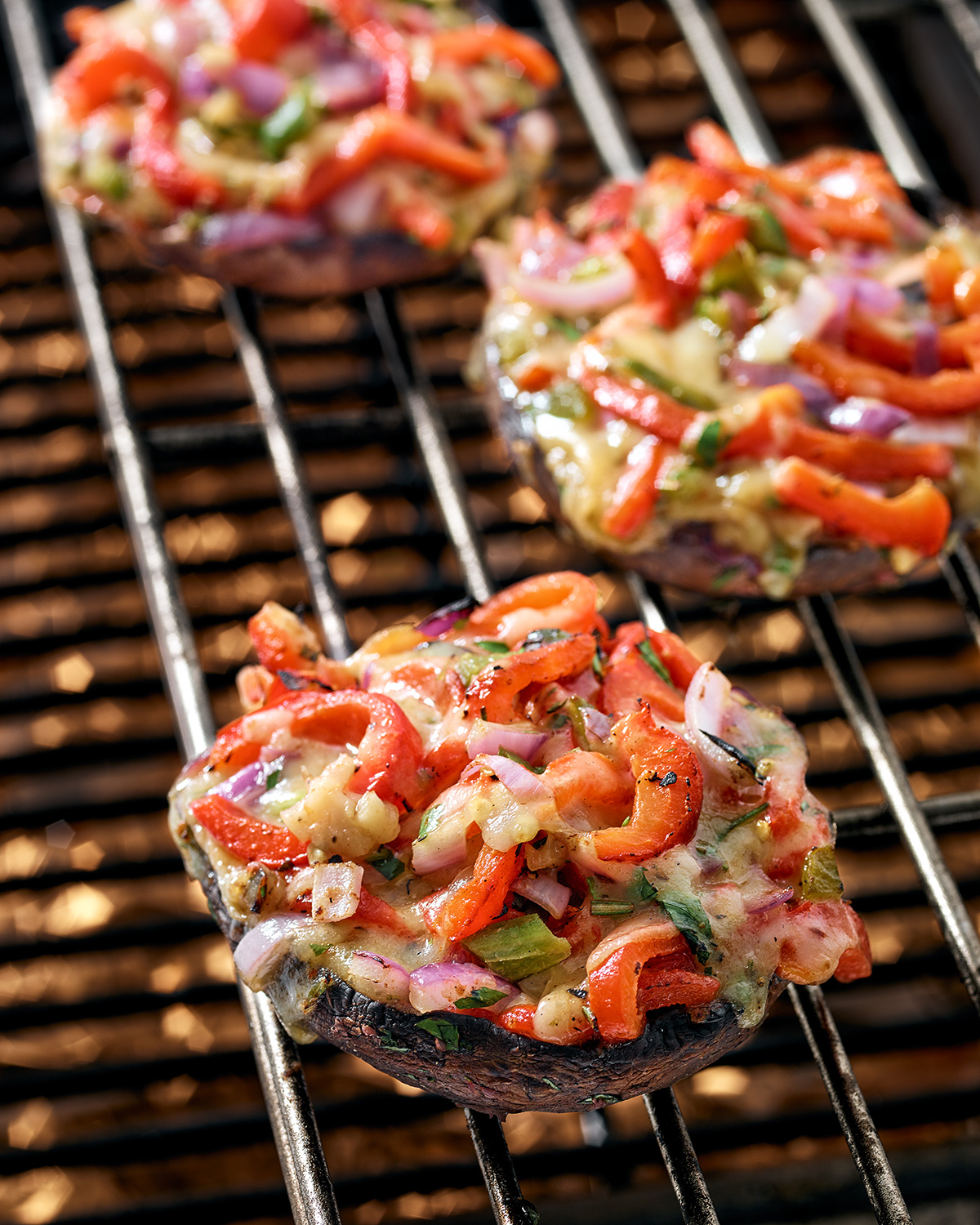 Enjoy these tasty mushrooms stuffed with a greenhouse sweet pepper, red onion and lots of cheese.
Preparation Time: 20 minutes
Standing Time: 15 minutes
Marinating Time: 30 minutes
Grilling Time: 30 minutes
Serves 4
4 large Ontario portabella mushrooms, stems removed
1 cup (250 mL) Ontario VQA red wine
2 tbsp (25 mL) vegetable oil
1 tbsp (15 mL) minced garlic
1 tbsp (15 mL) prepared horseradish
1 tbsp (15 mL) Dijon mustard
2 tbsp (25 mL) each chopped fresh Ontario parsley and rosemary leaves
2 tsp (10 mL) freshly ground black pepper
1 Ontario greenhouse sweet pepper
1 hot pepper, finely chopped (such as jalapeño)
1 Ontario red onion
2 cloves garlic, minced
1/2 cup (125 mL) shredded Ontario mozzarella cheese
1/2 cup (125 mL) shredded Ontario smoked Cheddar cheese
1/2 cup (125 mL) shredded Ontario havarti cheese
Salt and freshly ground black pepper, to taste
In large bowl, place mushroom caps; cover with hot water. Let stand 10 to 15 minutes to soften the mushrooms. Drain; pat dry. Place mushrooms gill-side-up in baking dish.
In large bowl, whisk together wine, oil, garlic, horseradish, mustard, 1 tbsp (15 mL) each of the parsley and rosemary and black pepper. Pour over each mushroom cap; marinate for 30 minutes.
Meanwhile, place sweet pepper, hot pepper and onion on grill over medium heat. Grill, turning until blistered and lightly charred on all sides, about 10 minutes. Remove from grill, cool slightly. Peel and seed peppers, thinly slice into strips; place in large bowl. Thinly slice onion; add to peppers. Add garlic, mozzarella, Cheddar, havarti and remaining parsley and rosemary; season with salt and pepper. Mix well; set aside.
Remove mushrooms from marinade, reserving marinade. Grill mushrooms gill-side-down, covered, over medium heat, for 8 to 10 minutes until lightly charred. Turn mushrooms over, baste with reserved marinade. Grill covered for 5 minutes. Remove from grill; cool slightly.
Mound cheese mixture into mushroom caps, firmly packing. Grill covered for 10 to 15 minutes until cheese is melted. Serve immediately.
Nutritional Information:
1 serving
PROTEIN: 13 grams
FAT: 20 grams
CARBOHYDRATE: 12 grams
CALORIES: 306
FIBRE: 1 gram
SODIUM: 410 mg