This recipe and image, courtesy of Foodland Ontario, make it a pleasure to add more vegetables to your day. Sure they're nutritious, but they're also so tasty and eye-catching, you might even serve yourself seconds.
These grilled stuffed tomatoes are versatile and packed with flavour.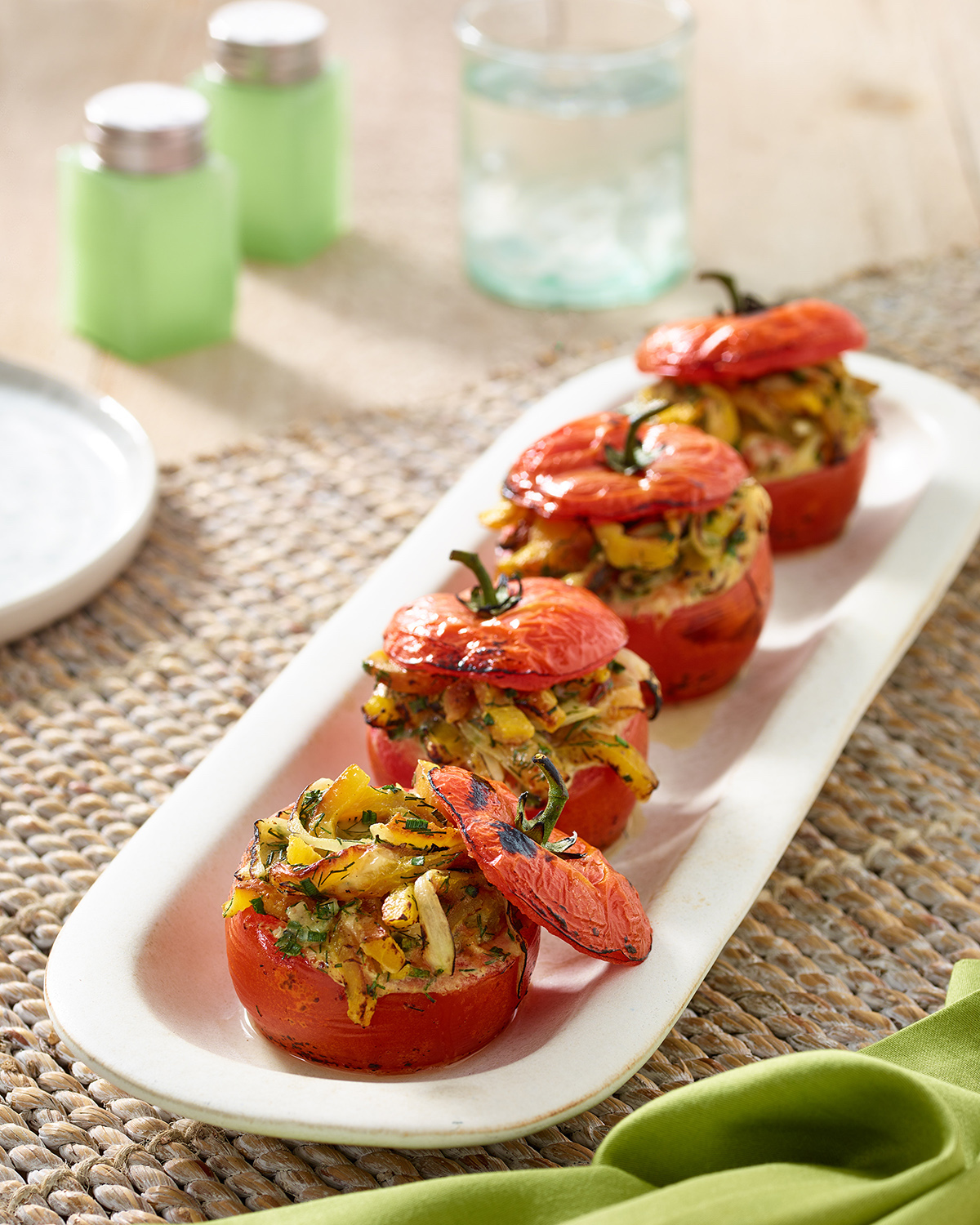 Preparation Time: 30 minutes
Grilling Time: 30 minutes
Makes 4
4 Ontario greenhouse tomatoes
1 Ontario greenhouse sweet yellow or orange pepper
1 small Ontario onion, sliced
1 Ontario egg, lightly beaten
1/2 cup (125 mL) shredded Ontario smoked Gouda cheese
1/4 cup (50 mL) grated Parmesan cheese
1/4 cup (50 mL) each chopped fresh Ontario dill and chives
1 tbsp (15 mL) olive oil
Pinch cayenne pepper
Salt and freshly ground black pepper, to taste
Slice tops off tomatoes about 1/2-inch (1 cm) thick; reserve tops. Using melon baller or spoon gently hollow out tomatoes. Pat tomatoes dry with paper towel. Set aside.
Place sweet pepper on grill over medium-high heat. Grill, turning occasionally, until charred and blistering, about 10 minutes. Place pepper in small bowl and cover with plastic wrap; let stand 10 minutes. Peel and seed pepper; cut into thin strips.
In medium bowl, mix together sweet pepper, onion, egg, Gouda, Parmesan, dill, chives, oil, cayenne and salt and pepper. Stuff tomato cups with the herb mixture.
Place tomatoes and reserved tops carefully onto medium to medium-high grill. Grill, covered for 15 to 20 minutes or until tomatoes are tender and blistered and filling is hot and bubbling. Turning tomato tops halfway, remove when cooked through.
Nutritional Information:
1 serving
PROTEIN: 11 grams
FAT: 12 grams
CARBOHYDRATE: 12 grams
CALORIES: 193
FIBRE: 3 grams
SODIUM: 350 mg