Barbecue season is at full sizzle. Now's the time to turn off the oven and enjoy backyard cookouts. You don't have to stick to classics such as hot dogs, steak or ribs. Everything from seafood and
appetizers to pizza and desserts can be barbecued to mouth-watering perfection. This recipe and photo, courtesy of Foodland Ontario, will get you fired up to be creative with summer fare, whether you're grilling for one, two or a crowd.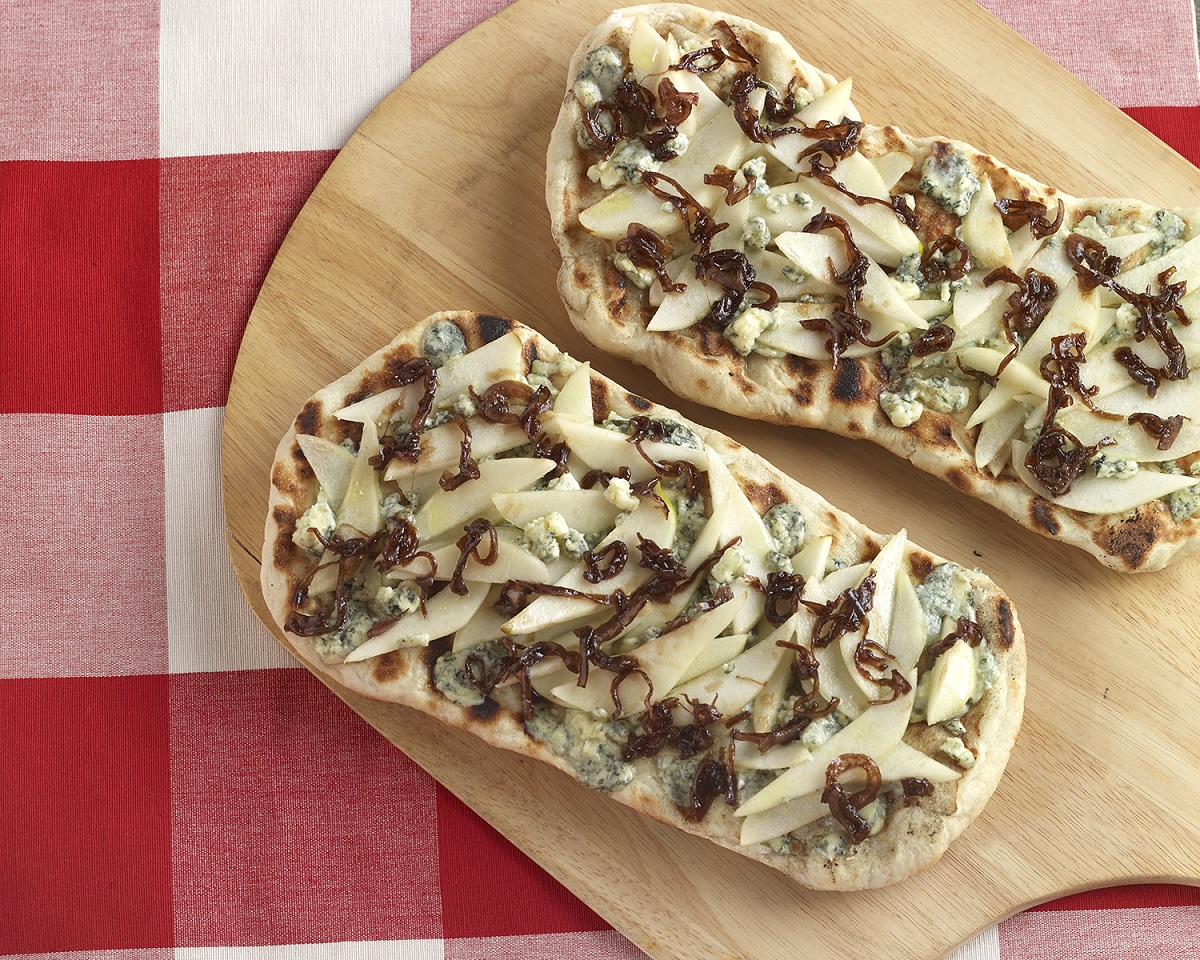 This appetizer is perfect for casual entertaining at the cottage or in your backyard. It goes well with either a VQA white wine or an Ontario craft beer.
Preparation Time: 20 minutes
Cooking Time: 15 minutes
Grilling Time: 8 minutes
Serves 8 to 10 (Makes 40 pieces)
2 tbsp (25 mL) olive oil
1 cup (250 mL) thinly sliced Ontario shallots
3 tbsp (45 mL) balsamic vinegar
1 tbsp (15 mL) Ontario maple syrup
1 pkg (650 g) pizza dough, thawed if frozen
3/4 cup (175 mL) crumbled Ontario blue cheese
3 Ontario bartlett pears, peeled and sliced thinly
In small skillet, heat oil over medium heat. Add shallots; reduce heat to medium-low and cook,  stirring occasionally, until golden brown and very soft, five to eight minutes. Add vinegar and maple syrup; simmer gently until shallots are glazed and most of the liquid has evaporated, five to six minutes. Remove from heat.
Lightly oil a clean counter. Roll or stretch out dough into two 6- x 12-inch (15 x 30 cm) rectangles.
Preheat barbecue to high. Place both dough rectangles on grill, close lid and reduce heat to medium-high. Grill for two minutes; flip over and grill another two minutes. If dough puff s up, press down with a metal spatula. Remove from grill. Using metal spatula, spread cheese evenly over pizza crusts. Arrange pears, then shallots evenly over cheese. Return pizzas to grill, reduce heat
to low and grill until dough is cooked through and slightly charred on the bottom, two to four minutes. Remove from grill, cool slightly and cut into pieces.
Nutritional Information:
1 serving (when recipe serves 10):
PROTEIN: 8 grams
FAT: 8 grams
CARBOHYDRATES: 44 grams
CALORIES: 273
FIBRE 3 grams
SODIUM: 476 mg