This recipe and image, courtesy of Foodland Ontario, make it a pleasure to add more vegetables to your day. Sure they're nutritious, but they're also so tasty and eye-catching, you might even serve yourself seconds.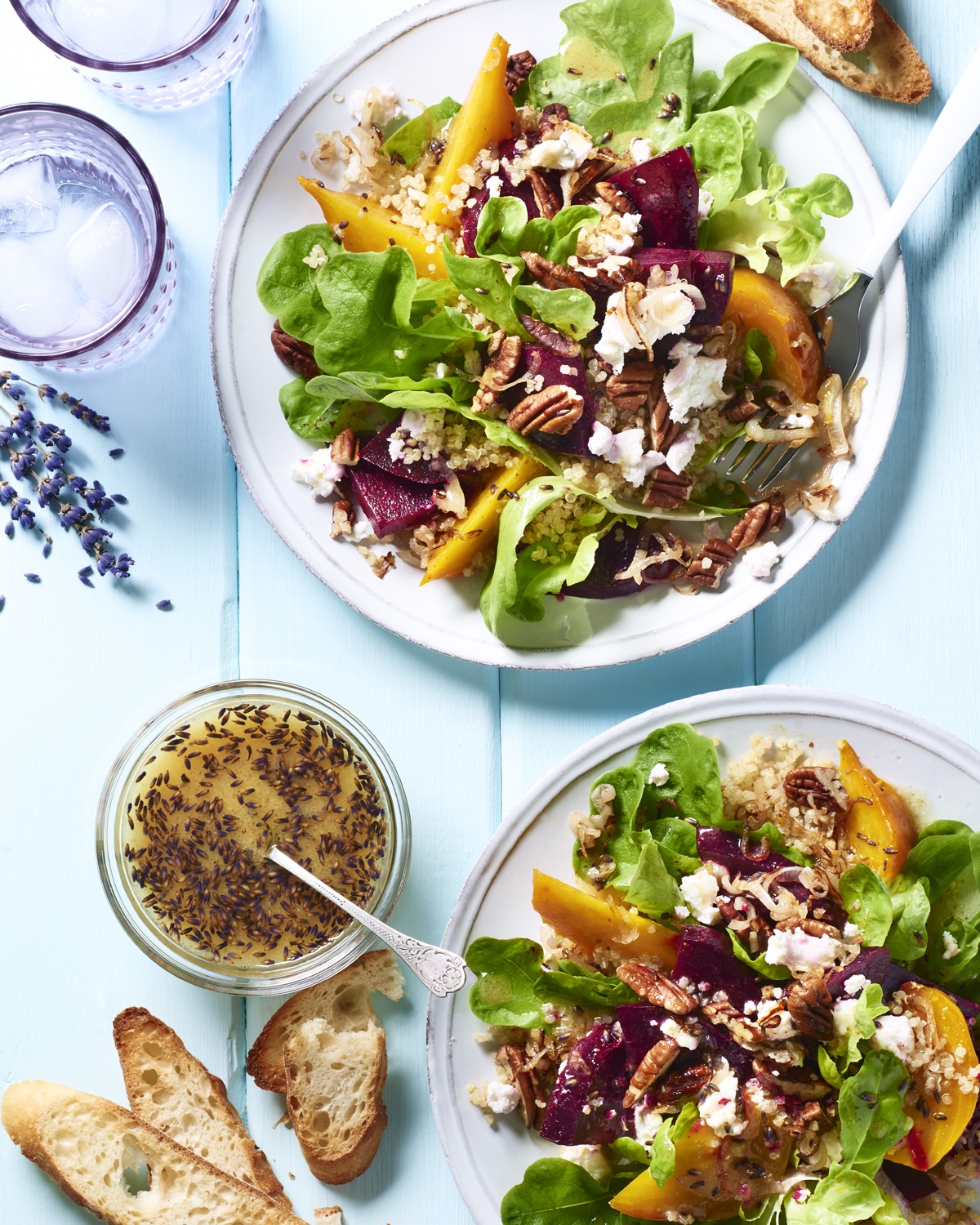 Enjoy these tasty mushrooms stuffed with a greenhouse sweet pepper, red onion and lots of cheese.
These flavours and textures work well together and are finished off with a unique lavender dressing.
Preparation Time: 30 minutes
Roasting Time: 45 to 60 minutes
Cooking Time: 20 minutes
Serves 6
5 Ontario beets (2-inch/5 cm diameter)
1 cup (250 mL) uncooked quinoa
2 cups (500 mL) chicken or vegetable broth
3/4 cup (175) coarsely chopped pecans
2 tsp (10 mL) olive oil
1-1/2 cups (375 mL) Ontario shallots, thinly sliced
1 clove Ontario garlic, minced
8 cups (1 L) Ontario leaf lettuce
1 pkg (130 g) Ontario goat cheese
Lavender Dressing:
2 tbsp (25 mL) apple cider vinegar
1 tbsp (15 mL) Ontario honey
1 tbsp (15 mL) deli-style mustard or whole grain Dijon mustard
1 tsp (5 mL) culinary-grade dried Ontario lavender, toasted*
3/4 cup (175 mL) vegetable oil
Salt and pepper
Trim tops and tips of beets, leaving 1-inch (2.5 cm) stems. Wrap individually with foil; place in baking pan. Bake in 375°F (180°C) oven for 45 to 60 minutes or until tender when pierced with sharp knife. Undo foil wrap and let cool slightly; trim ends and slip off skins. Slice into bite-size pieces. Cover and place in medium bowl; refrigerate up to 2 days.
Rinse quinoa well in cold water. Cook quinoa in broth until tender and liquid is absorbed, about 20 minutes. Fluff with fork. Let cool; cover and refrigerate up to 2 days.
In large non-stick skillet, toast pecans over medium heat, stirring often, until lightly browned; remove to small dish. *Toast 1 tsp (5 mL) lavender for dressing in skillet, stirring often for about 2 minutes; remove to small dish. In same skillet, heat oil over medium-low heat. Add shallots, cook, stirring often, until very soft and golden brown, about 3 minutes. Stir in garlic, cook for 1 minute. Set aside.
Onto four individual serving plates, place a quarter of the lettuce, quinoa and beets. Top with a quarter of the goat cheese, shallots and pecans. Drizzle with dressing.
Lavender Dressing:
In medium bowl, whisk together vinegar, honey, mustard and toasted lavender. Whisk in oil until emulsified. Season to taste with salt and pepper. Cover and refrigerate up to 2 days.
Nutritional Information:
1 serving
PROTEIN: 13 grams
FAT: 22 grams
CARBOHYDRATE: 39 grams
CALORIES: 395
FIBRE: 6 grams
SODIUM: 470 mg