What could be better than ooey-gooey toffee sauce poured over cake? Grated apple makes these sticky toffee puddings moist and sweet, a perfect pairing with homemade toffee sauce.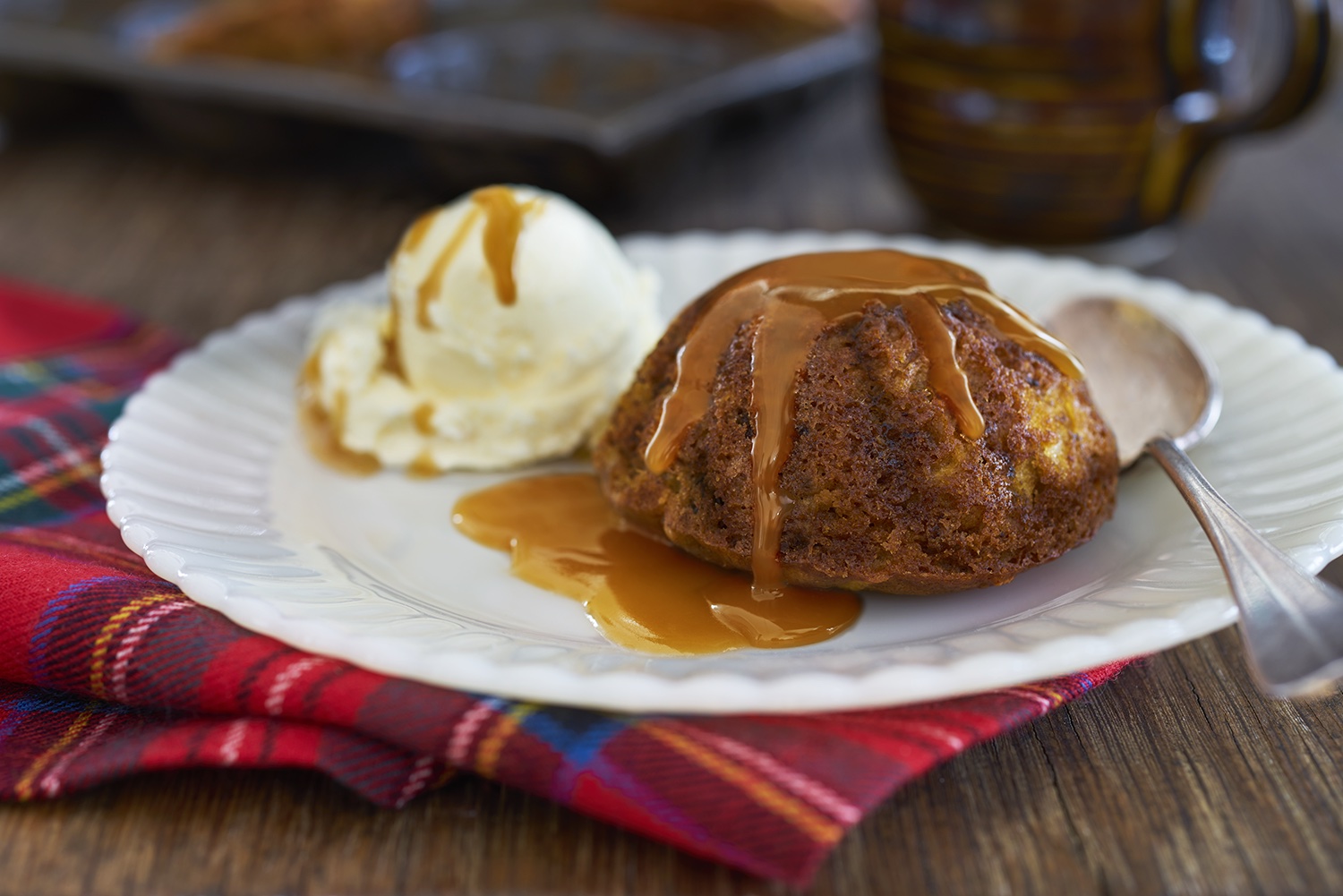 Whether you want to entertain guests, put a nutritious, stick-to-your-ribs meal on the table, use up leftovers or whip up a little something sweet, this idea fit the bill scrumptiously. Courtesy of Foodland Ontario, the appetizing image and instructions might even prompt you to enjoy some extra time in the kitchen
Preparation Time: 35 minutes
Cooking Time: 15 minutes
Baking Time: 20 minutes
Serves 12
1 cup (250 mL) chopped dates
3/4 cup (175 mL) water
1-1/3 cup (325 mL) all-purpose flour
1-1/2 tsp (7 mL) baking powder
1/2 tsp (2 mL) each baking soda and salt
1/4 cup (50 mL) butter, at room temperature
2/3 cup (150 mL) packed dark brown sugar
2 Ontario eggs
1 tsp (5 mL) vanilla
1 cup (250 mL) peeled and grated Ontario apple (such as cortland or empire)
Toffee Sauce:
2/3 cup (150 mL) 35% Ontario whipping cream
1/2 cup (125 mL) packed dark brown sugar
1/3 cup (75 mL) butter
1 tsp (5 mL) vanilla
Spray muffin cups with cooking spray; set aside.
In small saucepan, over medium-high heat combine dates and water. Bring to boil, reduce heat and simmer, uncovered until dates are soft, about 7 minutes, stirring occasionally. Cool 5 minutes. Place in food processor and process until smooth.
In medium bowl, whisk together flour, baking powder, baking soda and salt.
In large bowl, using electric mixer, on high speed, beat butter and sugar until light and fluffy, about 2 minutes. Add eggs, one at a time, scraping bowl between additions. Stir in vanilla. Add flour mixture in 2 additions until well combined. Stir in date mixture; fold in apple. Spoon batter evenly into muffin cups.
Bake in 350°F (180°C) oven until cake tester inserted in centre comes out clean, about 18 to 20 minutes. Cool pan on wire rack for 5 minutes. Remove puddings to wire rack to cool.
Toffee Sauce: Meanwhile, in small saucepan, over medium heat, combine cream, sugar and butter. Bring to boil and boil gently, stirring occasionally until sauce is slightly darkened and thickened, about 3 minutes. Remove from heat and stir in vanilla. Cool 5 minutes. Spoon sauce over puddings. Serve warm.
Tip: Both the sauce and puddings can be made a day ahead. Just before serving, reheat toffee sauce and puddings separately in microwave on High for 20 second intervals until warm.
Nutritional Information:
1 serving
PROTEIN: 3 grams
FAT: 15 grams
CARBOHYDRATE: 43 grams
CALORIES: 312
FIBRE: 2 grams
SODIUM: 270 mg