Parsley pesto adds a pop of flavour to this satisfying, classic meal. Making gnocchi is a lot easier than you think. Give it a try. The results are delicious.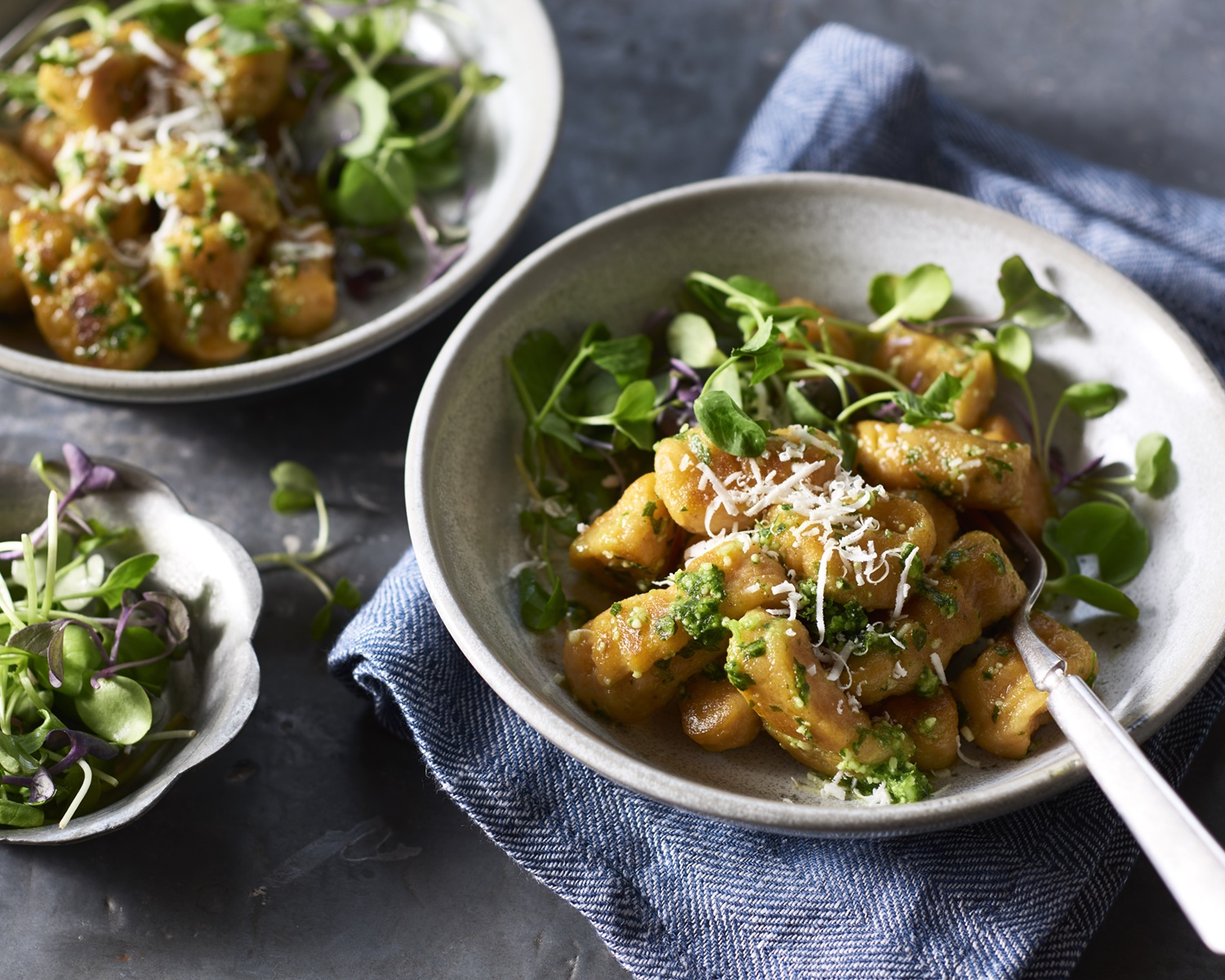 Whether you want to entertain guests, put a nutritious, stick-to-your-ribs meal on the table, use up leftovers or whip up a little something sweet, this idea fit the bill scrumptiously. Courtesy of Foodland Ontario, the appetizing image and instructions might even prompt you to enjoy some extra time in the kitchen
Preparation Time: 30 minutes
Cooking Time: 22 minutes
Serves 6
Pesto:
2 cloves garlic
1/4 cup (50 mL) fresh Ontario parsley leaves
1/4 cup (50 mL) grated Parmesan cheese
1/4 tsp (1 mL) salt
1/3 cup (75 mL) vegetable oil
Gnocchi:
3 cups (750 mL) cubed Ontario sweet potato
1 Ontario egg
2-1/2 cups (625 mL) all-purpose flour (more for dusting)
1 cup (250 mL) Ontario ricotta cheese
1/4 cup (50 mL) grated Parmesan cheese
2 tbsp (25 mL) packed brown sugar
1 tsp (5 mL) salt
1/2 tsp (2 mL) paprika
1/4 tsp (1 mL) ground nutmeg
1 tbsp (15 mL) vegetable oil
1 cup (250 mL) Ontario microgreens
Pesto: Drop garlic through spout of food processor (or blender) while it's running. Add parsley, Parmesan and salt; pulse until finely chopped. With motor running, gradually add oil. Stopping as needed to scrape down sides with spatula.
Gnocchi: In large saucepan of boiling salted water, cook sweet potato until fork tender, about 10 minutes. Drain and mash. Let cool for 5 minutes.
In large bowl, using fork, mix together sweet potato, egg, flour, ricotta, Parmesan, sugar, salt, paprika and nutmeg, until well combined. Dust hands with flour and turn dough out onto lightly floured surface. Gently knead several times, rotating dough a quarter turn after each knead, until it forms a smooth ball; about 2 minutes.
On well-floured surface, with floured hands, roll dough into log; cut into quarters. Gently roll and shape each quarter into 3/4-inch (2 cm) diameter rope. Using fork; gently ridge sides of rope. With sharp knife, cut each rope diagonally into
3/4-inch (2 cm) pieces.
In large pot of boiling salted water, cook gnocchi in 4 batches, stirring gently, until floating, about 3 minutes. Using slotted spoon, transfer to plate.
In large non-stick skillet, heat 1 tsp (5 mL) of the oil over medium-high heat. Cook gnocchi in batches, until golden brown, about 1 minute. Add additional oil as needed. Top gnocchi with pesto and microgreens. Serve warm.
Nutritional Information:
1 serving
PROTEIN: 16 grams
FAT: 21 grams
CARBOHYDRATE: 62 grams
CALORIES: 507
FIBRE: 4 grams
SODIUM: 750 mg