Comfort in a bowl and hearty enough for dinner with a green salad. Of course, you can skip the puff pastry topping, but it makes a great finish to the soup.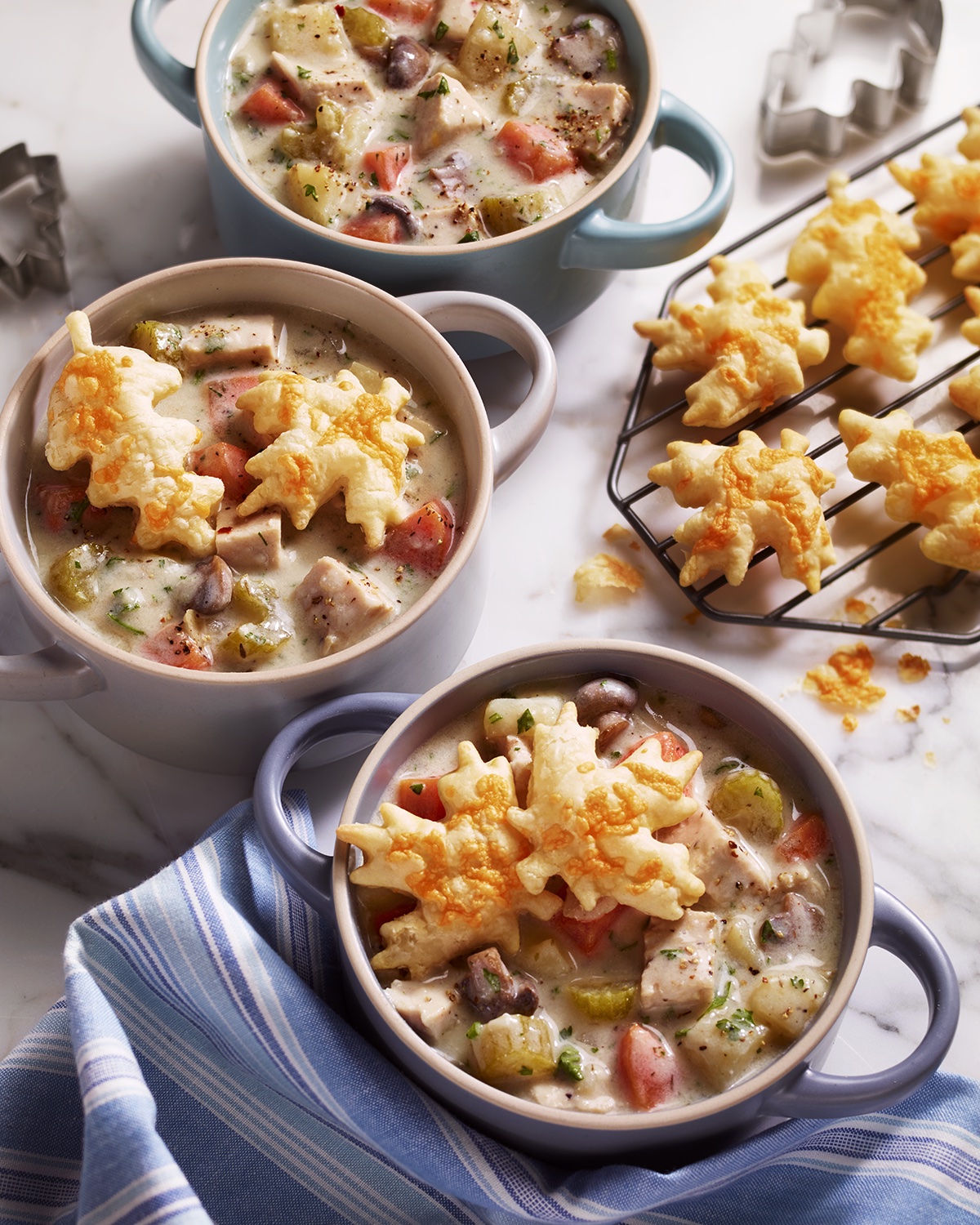 Whether you want to entertain guests, put a nutritious, stick-to-your-ribs meal on the table, use up leftovers or whip up a little something sweet, this idea fit the bill scrumptiously. Courtesy of Foodland Ontario, the appetizing image and instructions might even prompt you to enjoy some extra time in the kitchen
Preparation Time: 20 minutes
Cooking Time: 22 minutes
Baking Time: 10 minutes
Serves 6 (Makes 8 cups/2 L)

Topping:
1 sheet (225 g) frozen all-butter puff pastry, thawed
1/3 cup (75 mL) finely grated Ontario cheddar cheese
Soup:
2 tbsp (25 mL) butter
2 cloves Ontario garlic, minced
1 Ontario onion, diced
Salt and black pepper
1-1/2 cups (375 mL) unpeeled diced Ontario potatoes
1 cup (250 mL) diced Ontario parsnip or zucchini
1/2 cup (125 mL) each diced Ontario carrot and Ontario celery
1/2 cup (125 mL) chopped Ontario button mushrooms
3/4 tsp (4 mL) dried thyme leaves
1/4 tsp (1 mL) crushed red pepper flakes
2 bay leaves
1 carton (946 mL) low-sodium chicken broth
3 tbsp (45 mL) all-purpose flour
1/2 cup (125 mL) 10% Ontario half-and-half cream or 18% Ontario table cream
2-1/2 cups (625 mL) bite-size pieces cooked Ontario turkey or chicken
1/3 cup (75 mL) finely chopped fresh Ontario parsley
Topping: Unroll puff pastry sheet, leaving pastry on parchment paper. Using 2- to 3-inch (5 to 7.5 cm) floured cookie cutters cut out 12 to 15 puff pastry shapes (leftover pastry can be re-rolled). Slide parchment and pastry onto baking sheet. Evenly sprinkle cheddar on each cut-out, pressing gently into pastry. Refrigerate.
Soup: In large pot, over medium heat, melt butter. Add garlic, onion and pinch each of salt and pepper, cook stirring occasionally for 3 minutes. Stir in potatoes, parsnip, carrot, celery, mushrooms, thyme, pepper flakes and bay leaves. Add broth; bring to boil, cover and simmer gently until vegetables are tender, about 10 minutes.
Meanwhile, place baking sheet with puff pastry shapes in 425°F (220°C) oven. Bake 10 minutes or until golden. Set aside.
In small bowl, whisk flour into cream; gradually stir into soup, stirring continuously until mixture comes to boil. Simmer gently 2 minutes. Stir in turkey and parsley. Add salt and pepper to taste. Serve soup topped with pastry cut-outs.
Nutritional Information:
1 serving
PROTEIN: 22 grams
FAT: 17 grams
CARBOHYDRATE: 28 grams
CALORIES: 360
FIBRE: 3 grams
SODIUM: 295 mgBottom of Form